The Montreal Canadiens feature one of the deepest offensive groups we've seen in decades. Yes, the centre position is still a question mark. Nick Suzuki is now the undisputed 1C for the next decade. Christian Dvorak is a safe 2C for the next few years. Beyond those two young players, the situation is a little murky.
Jake Evans is a great story and will start the year as the team's 3C – but on a contending team, he'd probably be a 4C. A really good 4C. For now, the 4C is a toss up between Paquette, newly acquired Adam Brooks, and Ryan Poehling. Paquette missed most of the preseason due to injury but at this point of his career, he's a 13th forward. Poehling failed to earn the spot, and Brooks has yet to play a game in the bleu-blanc-rouge so it is difficult to make any judgments on the waiver wire pickup.
What is far less murky is the situation on the wings. Cole Caufield. Tyler Toffoli. Mike Hoffman. Josh Anderson. Jonathan Drouin. Brendan Gallagher. Joel Armia. As Larry David would say, that's pretty, pretty, pretty good.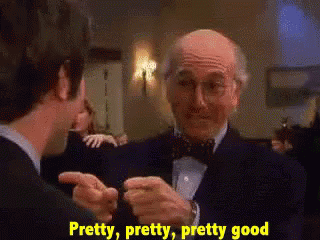 The Habs, on paper, have enough players to ice 2 very compelling power play units. In previous years, they relied heavily on Max Pacioretty and Shea Weber. They now have several weapons which will keep opponents guessing.
Given this incredible depth, we decided to ask you how many goals you expect the Canadiens to score this season. After collecting 155 responses, here are your (fearless) predictions. The results for each player can be found at the bottom of the article.
Total Goals
In all, the average response was 290 goals. The Canadiens scored 159 goals in 56 games in 2020-21 – that imputes a 233 goal output over 82 games. They were on pace for 245 goals in 2019-20. They scored 249, 209, and 226 goals in the 3 seasons before that. Needless to say, the expectation is for the Canadiens to have their best offensive season in several years, and by a long shot.
For further context, the Colorado Avalanche were the highest scoring team last season, and were projected to score 288 goals. Tampa Bay were projected to score 285 the year prior. Tampa also led the league in 2019 with 319 goals. Calgary was 2nd with 289 goals. In other words, this survey's respondents expect Montreal to be one of, if not the highest scoring team in the NHL this year.
Just for fun: the highest prediction was 490 goals and the lowest was 170. If we had to guess, these were entries by a) the most optimistic Habs fan out there, and b) a Leafs fan c) someone who is a super-mega Norlinder fan.
We predicted they will score 265 goals. This will put them in the upper echelon of the NHL but not at the top. This is probably a more realistic prediction, but we hope y'all are right!
Let's see how your predictions break down amongst some of the forwards on the team:
Tyler Toffoli – 29 goals
Tyler Toffoli surprised the hockey world by scoring a whopping 28 goals in 52 games last season. A 44-goal pace over a full 82 game season. 29 goals is a realistic target for him, especially considering they added snipers in Hoffman and Caufield this year.
Mike Hoffman – 27 goals
Hoffman was on a 27-goal pace last season, a bit of a drop off from his last 2 years that saw him score at, or project to score over 30 goals in both seasons. He is likely to benefit from playing with Jonathan Drouin on the power play this year and will be one of our goal scoring leaders with the extra man. He is unlikely to play with the right players at 5v5 to score at a prolific rate, so scoring in the mid 20s seems reasonable for him.
Christian Dvorak – 21 goals
Dvorak will be another player we expect to score a handful of powerplay goals. He has a special ability for scoring garbage goals on the PP, something MTL hasn't had much of for several years (with the exception of Brendan Gallagher). Dvorak is still young and was on pace for over 20 goals in each of the last 2 seasons on a very weak team offensively. With Anderson and Drouin as his regular wingers and some quality PP time, it's very easy to see him eclipsing 20 goals this season.
Josh Anderson – 22 goals
Josh Anderson, lovingly referred to as the Power Horse, is a 20 goal scorer all day, every day. As Jake Allen put it during the preseason, he has the hardest shot on the team right now, and he showed it this preseason, racking up a few impressive goals with his new linemates. Anderson is a fairly one-dimensional player offensively. That means he won't put up many assists, but it does mean he will likely lead his line in goals.
Nick Suzuki – 23 goals
Fresh off an 8-year contract extension, the expectation is Suzuki will take another step offensively as the team's number 1 centreman. Considering he was on pace to score 22 goals last season, it is not at all unreasonable to expect him to put up a similar number, if not a couple more. He will lead the forwards in time on ice as he plays in all situations, so the production should follow in his 3rd NHL season.
Cole Caufield – 30 goals
Cole Caufield will be the team's goal scoring leader for the next decade plus. This is a not so fearless prediction. In his rookie campaign, many expect the scoring wizard to hit the 30 goal mark and you can count us among them. That said, we wouldn't be surprised if he ends up closer to the 25 goal mark as he adjusts to the realities of an 82 game season.
Brendan Gallagher – 23 goals
Gallagher is a perennial 30 goal scorer. He's hit the mark twice recently and was on pace for 32 goals last season. 23 seems a bit low, but given how his usage will change along with his new linemates (Evans, and probably Hoffman once he is healthy), it makes sense to question his ability to hit 30 again. That said, it is Brendan Gallagher. He's silenced the doubters his entire life. Will he do it again this year?
Joel Armia – 14 goals
Armia has always been a player that looks like he should score more goals than he does, but he's averaged 15 goals a season over his career. So 14 goals is a very safe bet. That said, the playoffs last season felt like his coming out party, and he continued where he left off in the preseason. He's been simply excellent and exudes total confidence in his unique abilities. Count us among those who expect him to breakout to the tune of 20 goals.
Full Results
If you didn't make a prediction in our survey, how many goals do you think the Montreal Canadiens will score this year?